Organic And Natural Body Care Recipes
Learn How To Make Your Own Body Cream, Body Butter, Scrubs and Much More!
The main ingredients you will need to make your own body butter and creams are shea butter, cocoa butter, beeswax and safflower oil.
For scrubs, you can beat coconut oil, sugar and coffee!
Fifteen years ago I had an awakening and became really concerned about the ingredients in my antiperspirant and the increase of breast cancer. Then after a long journey, I found Lafe's Crystal Body Deodorant.
Do you wonder how to make calendula oil at home? There are two methods for making homemade infused calendula oil.
If you are looking for an easy coconut oil body butter recipe like body shop but without the chemicals, you have come to the right place!
Learn how to make lotion with shea butter with only 2 ingredients and in just 5 minutes. Its as easy as it can get!
Ucuuba butter which is a rare seed butter made from the ucuuba plant of South America.
Sugar scrubs are a great way to exfoliate, get rid of dead cells as well as rejuvenate your skin. Check out my top 10 sugar scrub recipes!
Mango butter  is a powerful and natural ingredient in this body butter recipe and perfect for dry or sunburned skins
I created this Himalayan Pink Salt DIY Foot Scrub & Soak Recipe to remove all those nasty dead and hard skins and have baby smooth feet… This is also a great detox DIY foot scrub!
This coffee body scrub will leave your skin smooth and well hydrated. It basically "buffs" your skin and gives it a nice golden glow.  Plus it can reduce the appearance of cellulite!
Did you know that a little goat milk on your skin will make it smooth like silk? Goat's milk contains natural emollients, vitamins and triglycerides and in soap just be ready to become cleopatra…
This whipped shea butter recipe is great if you are out of beeswax. Shea Butter comes from the nut of the African shea tree and  has many benefits for the skin...
It is a rich body butter perfect for dry skin and for preventing stretch marks. This recipe contains no beeswax but does contain a lot of cocoa butter…
In this blend I use peppermint essential oil which will provide a cooling effect and is also analgesic, meaning it is a natural painkiller!
Lavender Soaps are very calming and aromatic and I am going to teach you how to make it 3 ways.
This body scrub recipe or body polish is exfoliating and will eat the dead skin cells away leaving your skin smooth and glowing.
Let's get rid of our crocodile skin once and for all with this easy organic body butter recipe for dry skin!
Nothing is more displeasing than having to deal with clingy static-y clothes in the winter. Since there is NO way I was going to use a commercial anti-static sheet, I'm sharing with you a few natural tricks to avoid static clothes.
Shredded coconut and coarse sea salt will help exfoliate and are natural antiseptics. Coconut milk is hydrating and well who does not love the smell?!
Are you sneezing, coughing, your nose is stuffed up and you are looking for a natural way of healing your body? Find our which essential oils helps me get better faster!
What is not to love about coconut oil or its exotic Polynesian version Monoi! Monoï (pronounced Mah-noy) is an ancient Tahitian word meaning "scented oil" in the Reo-Maohi language…..
Pure Chai Perfume – Natural Perfume Recipe – How to make your own perfume is easier than you would think. This is my favorite winter and evening out natural perfume.
Mango butter has natural emollient, wound healing, and regenerative properties. Check out this easy to make natural cream recipe…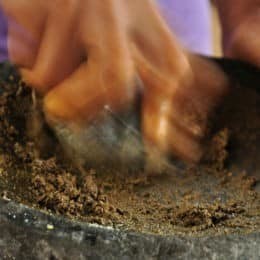 This Jamu (ancient Indonesian traditional medicine) treatment is a centuries-old recipe using herbs and spices which increase the blood circulation and ease aches and pains…
You are going to love this easy to make organic and all natural massage bar! It can also be used as a body moisturizer…
On this page you will find several natural body care recipes. Learn how to make your own body cream, body butter, scrubs, natural perfume and much more. These body care recipes I created contains 100% natural and organic ingredients.
Commercial body creams contain harmful chemicals that can disrupt hormones, creates infertility, develops allergies and cancer to name a few. You should stay away at all costs of ingredients you cannot read. The most dangerous are parabens (on the labels, they can show as propylparaben, butyparaben, isobutiparaben) as you probably heard. What you may not know is that "fragrance" is a common ingredient in most commercial beauty products. According to EWG "The word "fragrance" or "parfum" on the product label represents an undisclosed mixture of various scent chemicals and ingredients used as fragrance dispersants such as diethyl phthalate.
Fragrance mixes have been associated with allergies, dermatitis, respiratory distress and potential effects on the reproductive system." Stay away from any products that include fragrance. Sadly some "natural" body cream products include fragrance and while you may think that it is such a low dose that it should not be harmful, the daily application and bio accumulation in the blood can create a concentration over time that can cause health problems.
For all those reasons, it is a great idea to do your own body care recipes so you can control the ingredients that go into your skin and blood stream. Plus, it is cost efficient and quite fun!
I hope you will enjoy these fun and easy DIY body care recipes you can do right in your kitchen!
Never Miss A Recipe
Get weekly recipes right in your inbox, Learn how to make organic body butter, lip balm, face cleanser right in your kitchen!