I am always on the lookout for rare carrier oils that I can experiment with for new recipes! Sacha inchi oil comes from a plant native to South America and parts of the Caribbean. The seeds of the sacha inchi tree slightly resemble peanuts – the oil produced from the seeds is edible and used in cooking – but, it also has amazing benefits for skin and hair! This homemade face cream does not require any heating, you can just blend it and use it right away. It does not get easier than this!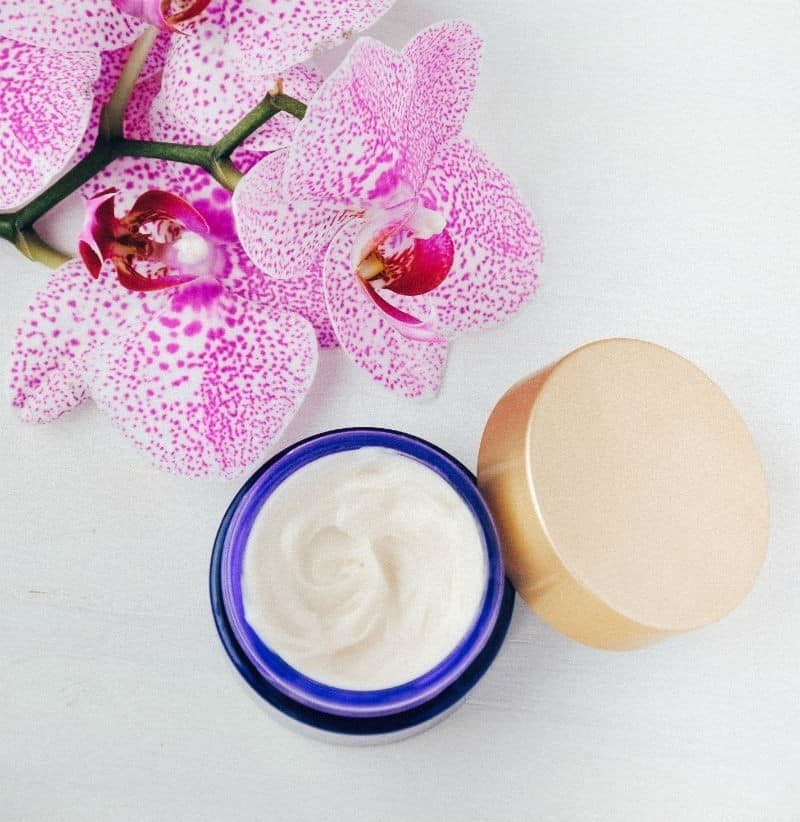 Sacha inchi oil is a superfood that is high in protein, fatty acids, and antioxidants. It mostly contains the antioxidants Vitamin C and Vitamin E, which help to fight free radical damage and counteract aging, making this oil ideal for mature skin.
It also has a high fatty acid content of 93% – and most of these fatty acids are in the form of linoleic acid. Linoleic acid is especially beneficial for uneven skin tone and those who are prone to clogged pores. You can buy it on amazon here.
Sacha inchi oil has a distinctive green and moss-like smell which is why I like to use essential oils to cover the smell. It goes on smooth and absorbs into the skin quickly, creating a protective moisture-locking barrier.
HOMEMADE FACE CREAM INGREDIENTS
Shea butter adds a richness to this homemade face cream with its thick, creamy texture. It's made from the nut of the African shea tree. It has a soothing effect on the skin. It provides an added boost of Vitamin E and fatty acids, enabling it to nourish the skin and fight signs of aging as well.
Chamomile hydrosol Or Rose hydrosol are derived from chamomile flowers and rose flowers respectively. Chamomile flower water has calming benefits due to the types of naturally occurring esters and alcohols in the plant. Rose hydrosol has a distinct rose scent and is calming and hydrating to the skin.
Lavender essential oil is made from the lavender flowers known for their soothing smell. This oil is also naturally antiseptic and has a calming effect on inflammation in the skin.
Rose geranium essential oil is distilled from a rose-scented geranium flower and has natural antiseptic properties which make it ideal for treating inflammatory conditions like eczema and acne. It smells great and is especially soothing to the skin.
Frankincense essential oil is made from the resin of the Boswellia sacra tree, native to Somalia and the Middle East. Most of all, It has a lovely, earthy smell and its anti-aging effect on the skin had made it a favorite in skincare recipes for hundreds of years.
The combination of these ingredients with sacha inchi oil produces a full textured facial cream due to the shea butter that is light and absorbs quickly due to the hydrosols and essential oils. To conclude, this homemade face cream is perfect for mature skin as well as to fight against the appearance of fine lines.
Sacha inch oil for hair
Sacha inchi oil can also be used on your hair for extra nourishment and hydration. It can also help to smooth the hair shaft and repair split ends. Apply it as a hydrating mask that you can leave on hair for up to 10 minutes. Rinse thoroughly and be amazed by your hair's smooth and silky texture!
If you are looking for more hair DIY beauty recipe, visit my other homemade hair recipes here.

Homemade Face Cream With Sacha Inchi Oil
Instructions
Add the shea butter and sacha inchi oil in an aluminum bowl.
Mix the shea butter and sacha inchi oil with a hand blender until smooth.
Add the 4 tablespoons of the chamomile flower water one spoon at a time and mix well with the hand blender until smooth and well combined for at least 5 minutes. You will have a smooth cream, like a lotion.
Pour the cream into glass containers.
The cream will become thicker as it sets after a few hours. it will remain soft to the touch which makes this homemade face cream easy to apply.
Please let me know what you think of sacha inchi oil and this homemade face cream recipe in the comment below!