Face Care Recipes
Learn How To Make Your Own Natural Face Creams, Face Lotions, Face Scrubs, Face Cleansers and Much More! The main ingredients you will need for the most popular face care recipes on my blog are shea butter, carrot seed oil, rosehip oil, kukui oil and argan oil.
This homemade face cream with sacha inchi oil is perfect for mature skin as well as to fight against the appearance of fine lines.
I've been using this homemade anti aging cream with Uccuba butter,argan oil, shea butter and camelia seed oil for two months now and have noticed a difference in the appearance of my skin. Get the recipe!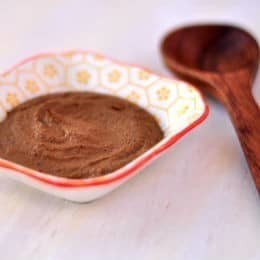 An ayurvedic face mask recipe for acne which will work wonders to restore skin balance, heal pimples and remove blackheads.
If you are looking for a simple and natural way of taking care of your face while preventing the appearance of fine lines, you should make this easy DIY face serum recipe. The main ingredient is rosehip oil.
I love to use this bentonite clay mask recipe for acne as a spot treatment to reduce redness and skin irritation.
Have you heard about Aquafaba? It is a revolutionary ingredient that you used to throw away…that is until now!
No water/oil phase, no beeswax, no double boiler needed, this is a cold process shea butter recipes, all you need to to is WHIP IT BABY!
Carrot seed oil is high in Vitamin A and E, beta carotene and also contains carotenoid which provides a natural protection against the effect of UV radiation; it will give your skin a discreet and natural golden tan…
Aloe vera is useful in the treatment of wound and burn healing, minor skin infections…
This shea butter lotion recipe is quite sinful and great for the change of season and to protect your face from cold, dry weather.
I will share with you two easy to make, DIY Natural Toners Recipes below, Aloe vera gentle and soothing cleanser & Rose and Neroli cleansing water.

This bentonite clay mask is a gentle exfoliator and perfect for balancing oily, dry and sensitive skins.  Bentonite clay is a natural detoxifier and purifier…
Who would not trust Japanese women for their traditional ways of taking care of their beautiful and flawless skin…?
Create this gentle and easy to make Rice Face Scrub with two simple ingredients…Rice flour and…
For oily skin but also suitable to all type of skin in the summer…Kukui nut oil is definitely one of my favorite oil…
In this oil blend recipe for skin and more precisely for your face, I have used one of my favourite oil from Polynesia…
Argan Oil is naturally rich in vitamin E, carotenes (giving you that nice and natural tanned glow!), squalene and fatty acids.
On this page you will find several natural face care recipes. Learn how to make your own face cream, face butter, face lotion, face scrubs, face cleanser at home. A lot of fun and easy DIY homemade organic beauty recipes you can do right in your kitchen!
I gathered my top organic face care recipes, diy organic face cream recipes you can do at home. My favorite face care recipes are the Shea butter lotion recipe for dry skin, the organic carrot face cream with carrot oil, the rhassoul clay cleanser and the anti-winkle oil recipe.
They are all easy recipes to do in your kitchen but if you have any questions, don't hesitate to drop me a line in the comments below or on my facebook page!
Never Miss A Recipe
Get weekly recipes right in your inbox, Learn how to make organic body butter, lip balm, face cleanser right in your kitchen!