The best place to find containers for homemade beauty products is on amazon.com if you are in the usa.  If you live in another country please follow the links below:
Containers For Homemade Beauty Products – Body butter and creams
You can opt for plastic or glass jars for your homemade body butter, even mason jars can do the trick! My preference is amber or cobalt blue glass containers. While there is a little more expensive than plastic, they last longer and are much better for the environment and for the product. If you choose plastic, make sure there is no BPA.
A cheap option for container is round aluminium tins that are cost efficient and lighter than glass jars. They are great for travel!
Make sure the glass jar you use are made of high quality, food-safe glass and acrylic, BPA and lead free..If the glass is tinted, the bottles should be 100% tinted glass, never painted.
It is the best way to protect essential oils from UV since essential oils are photosensitive.
Here are my top choices for containers for homemade beauty products such as body butter or creams below:
Containers for Essential Oil blends or perfumes
You can use amber glass roll on bottles to keep you essential oil perfume oil. It makes a great gift and is perfect to travel or fit in your purse.
There is also some twisted look roll on perfume bottles available on the market. Some comes with silver or gold caps depending on your taste.
If you want to keep essential oil already blended, the best choice is to use cobalt or amber glass bottle with a glass eye dropper. Never use plastic to keep essential oils as they are corrosive and will eat the plastic eventually.
It's also important to use colored glass to preserve essential oils from loosing their properties and health benefits as they get damaged from UV light.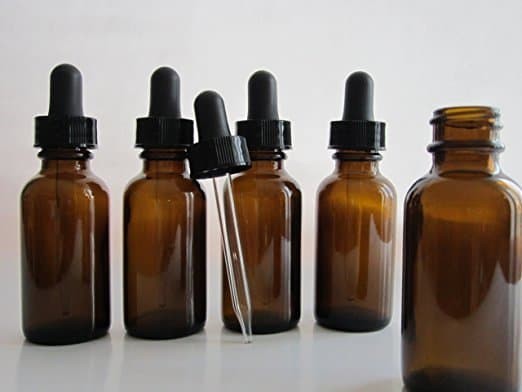 If you are working with aromatherapy, for mist spray, the best choice of container is refillable blue glass bottle with a fine mist dispenser.
Here are my recommended containers for essential oils blend:

Containers for serums
Containers for homemade Lip balms
Amongst containers for homemade beauty products, you will most likely need empty lip balm tubes. You can choose lip balm tubes or lip balm slide tins or even rounded lip balm.
Here are some of my recommended choices for lip balm containers:
I've also found some pretty fun lip balm containers that makes great gifts if you are looking for something more original!
Containers For Homemade Body Products
Clockwork offers lots of different containers for homemade beauty products such as Glass Jar, salve containers, cobalt glass bottles and even candle containers.
Other useful objects for making your own homemade beauty products
If you are serious about making your own beauty products, its  a good idea to get :