Here are the top 10 DIY all natural homemade sugar scrub recipes. These recipes are fun, easy, and creative you can make with simple ingredients. Sugar scrubs are a great way to exfoliate, get rid of dead cells as well as rejuvenate your skin.
I was inspired by fellow bloggers on Pinterest. They got my creative juices flowing and inspired me to create my own version of each of the top 10 homemade sugar scrubs.  Big thumbs up to all the very talented and creative bloggers mentioned below!
Why scrub with sugar you may wonder?
Sugar is a natural source of glycolic acid which increase new skin cell production and breaks down the protein that keeps the dead cells hanging onto your skin. The result is glowing, polished, baby smooth skin! You can use most of the sugar scrub recipes on your face or body. It's always a good idea to do a test on your skin in a small area before applying to your whole face or body. Wait 24h for any reaction before applying to a larger area on your body or face.
If you have very sensitive skin, I'd suggest switching to oatmeal for gently exfoliating instead of sugar. Salt scrub are great but can be too rough on sensitive skin. I prefer to use salt only in feet scrubs! take care of never scrub irritated skins or wounds.
Homemade sugar scrubs are also very cost effective, easy to make and great to be given as gifts!
How to make homemade sugar scrubs?
The basic ingredients you will need are organic unrefined coconut oil, grapeseed or safflower oil and of course sugar! You can substitute grapeseed oil or safflower oil with carrier oil like almond oil or sunflower oil. Just keep in mind that oils has different scent and texture.
For example if you use olive oil in your homemade sugar scrub, you will end up with a greasy scrub. It's best to use lightweight texture oil like safflower or grapeseed oil. Those oils will absorb to your skin easily, making your skin well hydrated but not greasy.
Also, choose a certified organic carrier oil so you don't end up with pesticides on your skin….
Here are some tips for DIY sugar scrub recipes:
To achieve a sandy texture for your sugar scrubs, use a ¾ cup of oil and 1 cup + ½ cup of sugar.
Adding dried herbs, flowers, clays, seeds and fruits in a scrub takes it to the next level!
Using fruits in sugar scrubs help getting rid of dead skin, exfoliate and contains natural vitamins.
Replacing fresh fruits by essential oils makes the scrub last longer.
Use brown sugar from dark coloured scrubs but lighter sugar for scrubs with pink or yellow shades (like the rose or grapefruit scrubs).
Depending on the carrier oil you use, you may have to slightly adjust the ratio sugar vs oil.
The texture of wet sand is nice for a body scrub but sometime it makes it hard to apply, consider making sugar scrub cubes, see recipe below.
Keep the sugar scrub air tight and free of water or humidity so it last longer.
If you use fresh fruit juices, fresh herbs, water or aloe vera (any kind of liquids) the scrub will not last long – probably a few days or a week the most. You also may end up with mold or bacteria so it's best to use within a few days and keep in the fridge.
Using fruit powdered extracts or dry herbs will allow your scrub to last longer without the use of preservatives.
Without further ado, here are the top 10 DIY sugar scrub recipes!
1. Matcha Sugar Body Scrub
Inspired from Inspire Beauty Tips
I'm a tea addict and when I saw this green tea sugar scrub recipe, my eyes grew big! I've been meaning to incorporate matcha in one of my recipe for a while.
The original recipe includes a strong brewed tea but I'd rather not include any water in this scrub as it would make it go bad more quickly. I've used matcha tea in this sugar scrub recipe for its vibrant color but because it is expensive I've only used a teaspoon. It can also be irritant to the skin so it's best not to use too much.
I also had some green tea extract on hand which add some potent antioxidants to this body scrub. This makes this sugar scrub recipe more potent.
Green tea is a rich in antioxidants, Vitamin C and Vitamin E. It helps to repair the effect of aging.
When using extract, take care of following the instruction of the manufacturer and to never increase the recommended amount.
Since I'm in love with earl grey, I've added a little bit of bergamot essential oil. Bergamot essential oil is phototoxic so (unless you get the kind that is bergapene free) make sure you wash your skin well and avoid sun exposure right after exfoliating just to be on the safe side. Essential oils are always optional but they take your scrub to the next level!
Now let's make this homemade Matcha Sugar Body Scrub Recipe!
2. Grapefruit Sugar Scrub Recipe
Inspired from Kaley @ Kitchen Mc Cabe
If you've never visited the kitchen McCabe blog, you're missing out! Kaley creates wholesome recipes with beautiful photos, always very inspirational!
I totally fell in love with the color of this grapefruit sugar body scrub, it looks so soothing, fresh and summerlike.
The recipes call for fresh grapefruit juice and beet juice, because this can spoil the scrub easily, you will need to keep it in the fridge and use it within a few days.
Grapefruit is a great astringent, meaning it will shrink pores. It also has exfoliating properties that are perfect for oily or acne-prone skin.
It is also rich in antioxidants and vitamins! I've used 1 whole grapefruit (peeled) and it gives an nice salmon pink color to the scrub.
Also I changed the proportion of oil vs sugar so it has the right constituency without the use of juice. I've also added some dried orange peel to increase the exfoliation.
3. Rose and Hibiscus Sugar Scrub
The color of the sugar scrub recipe is fantastic, especially given that it is rose petals that give this beautiful color! What a great idea to use flower petals  in homemade sugar scrubs.
I substituted the baby oil with coconut oil and voila, you have an all-natural beautiful sugar scrub.
Also, I would personally not use fresh rose petals because well, they won't last long and will turn brown eventually!
I used dried hibiscus flowers and rosehip extract that give this scrub a beautiful rose color. Rosehip extract is full of vitamin C and has potent antioxidant property.
4. Sage and Bluberries Sugar Scrub Recipe
 inspired by Diane @ Suburbia Unwrapped
Combining herbs and fruits, what a great idea! Being in the middle of winter, I did not have any blackberry in my fridge BUT I had fresh blueberries. The dried sage leaves I had in my spice rack were giving me a sad face….I had neglected them for
too long!
This sugar scrub recipe has anti-aging properties because of the sage leaves and the blueberries.
Sage has anti-ageing benefits, antibacterial and anti-inflammatory. Blueberries contains the salt of  salicylic acid. Salicylic acid helps removing dead skin and is anti-bacterial. It would be great to clear acne!
5. Lavender Sugar Scrub
inspired from Jessica @ Living chic on the cheap
Using tea bags to your tea is a fantastic idea and super crunchy! Its an easy sugar scrub to make, cheap and with no frills. I like to blend my own teas at home so I had some dried lavender buds on hands.
Lavender is well known to be a sedative, great to unwind and relax.
It is also anti-inflammatory, antifungal, antidepressant, antiseptic, antibacterial, and antimicrobial properties.  This makes a great gift!
6. Chai Sugar Scrub Recipe
Inspired from Hayley @ Give me some oven
Chai!! My favorite tea of all time. I don't know what I would do without the comforting chai tea on a cold and gloomy winter night! I'm not a fan of olive oil in scrubs; I personally find it too greasy so I replaced it with almond oil and coconut oil.
Also, I find vanilla extract irritant for the skin, makes my skin itchy so I did not include it. Instead of tea bags, I had some organic rooibos chai loose tea with lots of full seeds like cardamom, fennel seeds, etc…
The benefits of cardamom are plenty! It help to detoxify the body, high in anti-oxidant, helps alleviate depression. It's also a great remedy to prevent flu and cold!
I've added a few essential oils to take this chai sugar scrub to the next level. It's smell exotic and dreamy!
7. Calendula Sugar Scrub Cube recipe
Inspired from Stephanie @ hello glow
Love, love the idea of packaging the sugar scrub in cubes. It's so much easier to handle in the shower! You will need a melt and pour soap base for this recipe.
If you use shredded solid soap, It may not melt and combine with the oil like it should.
Calendula will give a light orange tint to your sugar scrub. It's also so pretty to add the whole flower petals!
Calendula is known as marigold, it has great healing properties and treats wounds and skin irritations. It has been known for centuries to have inflammatory and antibacterial properties.
The ground natural loofa is an amazing exfoliator and a great addition to a sugar scrub. It is optional here so do not worry if you do not have it on hand.

8. Coconut and Calendula Sugar Scrub
Inspired from Kate @ Our best bites
This one is very simple but it's also super convenient and easy to make! I've added some sweet orange and frankincense essential oils to add a beautiful citrus scent. Instead of fresh orange zest, I've used dried orange peel and also added some safflower oil so it's not too greasy.
I've added some calendula flowers because they give a wonderful orange color and have healing properties for your skin.
Coconut oil is a miracle oil. It can be used as massage oil, deodorant, insect repellent, cold sore treatment, body oil, sunburn relief and natural SFP4… Be sure to use unrefined organic coconut oil as this will have the most fragrant coconut scent.
9. Strawberry Chia Sugar Scrub Recipe
Inspired From Tonia @ The gunny sack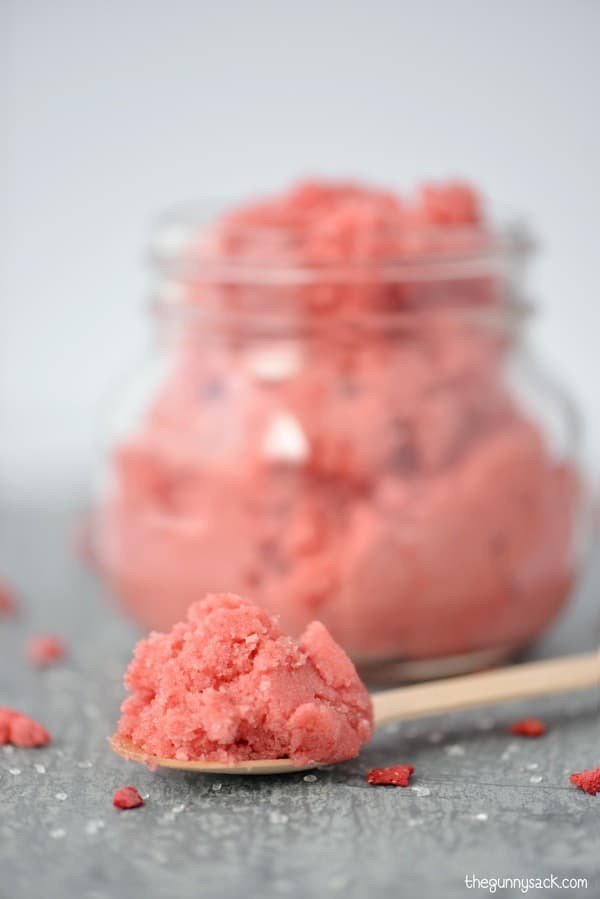 Strawberries are full of vitamin C but also improve the skin complexion. This sugar scrub recipe has a light whitening effect. Strawberries also contains salicylic acid and ellagic acid, which are known for reducing hyper-pigmentation and dark spots. It's also great to heal acne.
This recipe is using freeze dried strawberry and that's simply genius! Because there is no water in the strawberry it will last for a while.
I did not have freezed dried strawberries on hand so I used fresh strawberries. In my own version of this strawberry sugar scrub, I've added some chia seeds because strawberries, chia seeds and honey make the most fantastic strawberry jam EVER! Check out my vegan strawberry chia seed muffin recipe if you are a baker.
Chia seeds are a superfood, natural wonder loaded with omega 3, antioxidants, fiber and proteins. This chia seed sugar scrub is a great exfoliator.
Strawberries helps cleansing the skin and prevent acne. It improves complexion and tone the skin. Plus it has anti-aging properties!
10. Chocolate sugar scrub recipe
Inspired From Crystal @ a pumpkin and a princess

I could not resist including a chocolate sugar scrub in this top 10 DIY sugar scrub recipes! Chocolate a.k.a raw cocoa is not bad for you. What's bad for you is the milk, sugar, butter, lecithin and other artificial ingredients added to the commercial chocolate bars!
Did you know that cocoa powder is full of antioxidants and is also a good way to lighten your skin naturally? The cocoa flavanols are also great for improving skin texture, repairing damaged skin and maintaining a glowing complexion.
Here is my version of the chocolate sugar  body scrub: