Our lips can really suffer in the winter, especially if you live somewhere like me… in cold artic like conditions!
This lip gloss recipe I created will double as a moisturizer and repair chapped or dry lips. If you want luscious, healthy and glossy lips, this lip gloss recipe is for you! This lip gloss recipe has a constituency of whipped butter and is not runny.
I love Montreal but the winter is really harsh on my skin, the positive is that it pushes me to be creative and come up with awesome recipes like this one: all natural, easy to make, cheap and super potent!
Of course, I've used all natural ingredients and did not include petroleum nor lead or aluminum which are sadly common ingredients in lipstick and lip balms. I also did not use any mica or natural colors in this lip gloss recipe but you can easily add some beetroot or rosehip powder to give it a pink to red shade. I used those cute eye shade containers that can be kept in your purse and take no space at all!
The 3 main ingredients are organic shea butter, beeswax and Castor oil. Shea butter will give thickness and moisturising properties to your lip gloss. Shea Butter is an intense moisturiser for dry skin, and is a wonderful product for revitalizing dull or dry skin.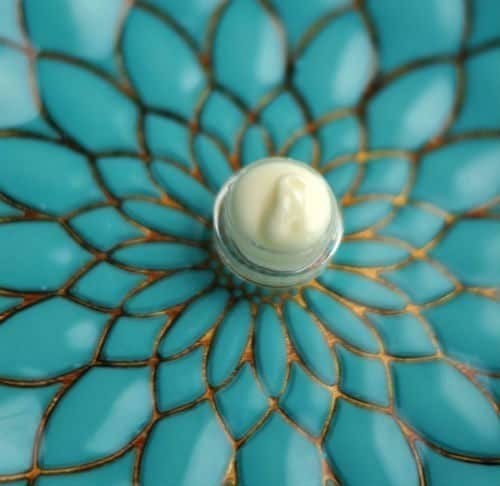 Castor oil is a vegetable oil obtained from the castor bean, not the animal! It is a natural emollient that penetrates the skin and helps stimulate the production of collagen, plus it will give a glossy appearance to your lips.
Castor oil can be taken internally and act as a natural laxative, something to keep in mind when you need it!
Using essential oil is always optional but peppermint oil will act as an antibacterial and will give a cooling or fresh tingle to your lips!
Since there is no water or liquid in this lip gloss, the shelve life is 6 months. Make sure to always use clean hands and making small batches is always a good idea.

Lip Gloss Recipe - Luscious Lip Whip
Ingredients
INGREDIENTS OF LIP GLOSS RECIPE
Natural emulsifier
Oil phase
Optional
3 drops of peppermint essential oil
Instructions
DIRECTIONS
Melt all ingredients on low heat in a double boiler or in an aluminium bowl placed in a pan filled with water.
Once ingredients have melted take it off the heat and put in a cold water bowl.
Start whipping immediately with an electric mixer (egg white beater) until the liquids forms a thick whipped cream, it should only take 2 minutes since there is little quantity.
Add essential oil if desired and whip for a few seconds.
Scoop the lip whip treatment in round lip balm containers or eye shadow containers. This should fill 2 or 3 containers.
Voila, you can use this luscious lip gloss right away!
If you want to have fun making other lip balm or lip gloss recipe, check other homemade lip balm recipes here.
What do you think of this luscious lip gloss recipe? Please take two minutes to let me know on our private facebook group or on our facebook page!