Lip gloss is a beauty staple that can be worn for everyday looks and on special occasions – but conventional lip glosses can be packed with harmful ingredients. Avoiding the use of toxic chemicals on your lips is especially important because you don't only absorb them through the skin, but you ingest them through licking your lips, obviously! You can make my gorgeous DIY lip gloss recipe with only three ingredients, castor oil, vegetable glycerin and natural carmine colorant or micas.
This red lip gloss is flirtatious and sensual. It will make your lips glossy and give a lot of shine. You could also use it on top of your lip balm or matte lipstick for extra gloss on a night out. If you are looking for a sticky and look-at-me sheen with pigmented red color, plus moisture and hydration, then you will be very pleased with my red lip gloss recipe!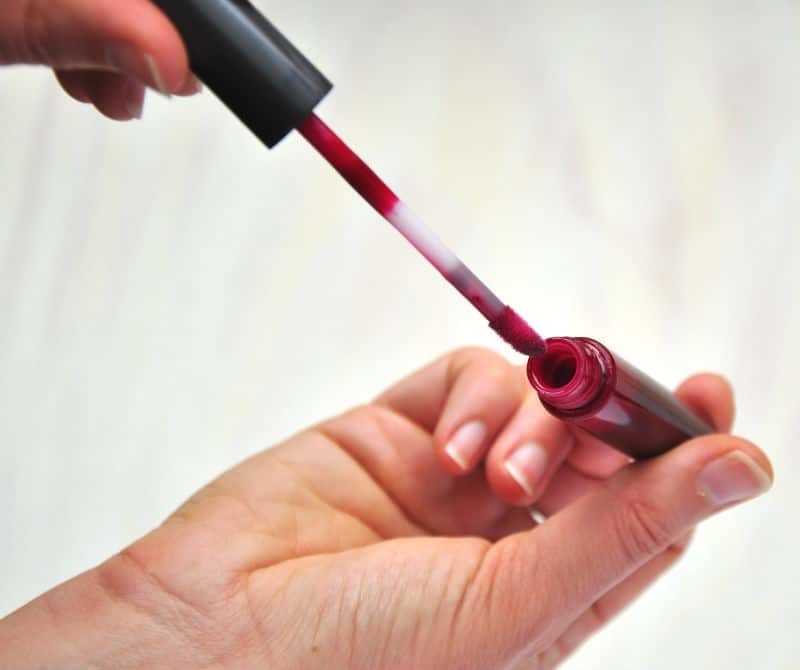 Why make your own lip gloss?
In order to achieve maximum shine and longevity, many store-bought lipsticks are packed with chemicals! Watch out for ingredients to avoid on the labels, these include:
Petrolatum – Petrolatum is essentially more refined petroleum, which is exactly what it sounds like: gasoline! The refining process can add toxins, many of which are related to cancer, to the petrolatum.
Phthalates – These compounds are endocrine disruptors, which means that they can mess with your reproductive hormones – this can cause acne, weight gain, period problems and even infertility. Phthalates have also been associated with liver cancer in mice and may be potentially carcinogenic to humans.
Butylated Compounds – Butylated Compounds are preservatives that also disrupt the endocrine system, resulting in hormonal imbalances and infertility. They have also been associated with skin irritation so you don't want them on your lips!
Parabens – You've probably heard about these bad guys because they've been in the news quite a lot. They interfere with both the immune system and the nervous system, and have been linked to cancers such as breast cancer.
Conventional lip glosses may also contain chemical colorants, artificial flavors and adhesive agents that you don't want to be ingesting!
Are you looking for a tinted lip gloss?
A tinted lip gloss is subtle enough that it can be worn every day – and even with some of the most natural looks. It's also a great way to brighten up your face on a (almost) no makeup day! Instead of using the carmine colorant in this lip gloss recipe, you can add mica with the color of your choice. It will give you a sheer lip gloss but it is not covering as in my red lip gloss recipe below.
My favorite micas for a tinted lip gloss is this Red rose mica.
My DIY Lip Gloss 
This red diy lip gloss is super easy to make, and the best part is that it uses only two natural ingredients!
Castor oil – Castor oil is a vegetable oil made from the seeds of the castor plant. It's a completely healthy alternative to the heavily-processed and toxin-laden petrolatum used in most commercial brands. Castor oil has natural antibacterial and antifungal properties and is rich in fatty acids and vitamin E. Castor oil texture is thick and it gives shine while nourishing your lips!
Red colorant carmine – To add a color to this diy lip gloss, I use red carmine die. Carmine is a naturally derived colorant made from an acidic compound in cochineal insects. Yes, it's made from bugs – but it's completely safe, and is in fact, used in a lot of foods. It produces a brilliant red color that mixes nicely with castor oil for a nice tinted gloss.  The one I have been using is from Aroma zone which gives a deep red color. I was not able to find it anywhere else that one this website.
OR
Vegetable glycerin – will add thickness to your lip gloss as well as prevent the lip gloss from going everywhere. Make sure you get vegetable glycerin and look at the labels so it is USDA Organic,  Cold-pressed, and Chemical-Free. It is clear, odorless and has also softening and lubricating benefits.
You will also need a lip gloss container with a brush like this one!
DIY Lip Gloss With 3 Ingredients
Instructions
Pour all the ingredients directly in a lip gloss container.
Shake well.
That's it, you are have done your homemade lip gloss recipe!
This diy lip gloss is covering because the carmine colorant is a vivid red color, like a cherry Popsicle.
If you opted for the mica, it will be more of a sheer lip gloss. How do you like this lip gloss recipe?
Please rate it in the comments below so if you would like me to share more recipe like one!