A natural solution for many skin issues can be found in this simple calming and healing clay mask recipe for acne. I love to use this bentonite clay mask recipe for acne as a spot treatment to reduce redness and skin irritation.
With all the food excess over the holidays, my skin has become a little bit of a Christmas tree and not in a good way!
Our skin can get pimples and become irritated for a number of reasons – did you know that usually, acne is linked to the dysfunction of the gut?
I've read this very interesting book that talks about the subject called " Gut: the inside story of our body's most under-rated organ" by Julia enders. I really recommend reading it if you have acne, you can get it on Amazon here.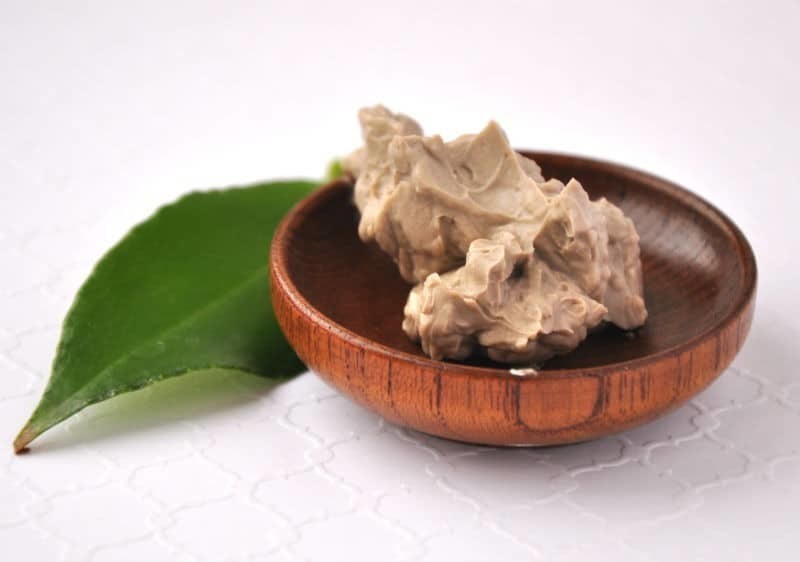 Bentonite clay is a naturally occurring type of clay, typically formed from old volcanic ash. It has a high montmorillonite content, and is highly absorbent. This enables it to draw impurities out from the skin. Bentonite clay is also high in many minerals such as magnesium, potassium and iron. It has been used for cosmetic purposes since as early as 2500 BCE. Bentonite clay can be harvested in most regions where volcanic activity as occurred, including parts of the United States like Wyoming. In fact, the largest bentonite clay deposit is by Fort Benton, WY, which gives the clay its name!
What are the uses of bentonite clay?
Bentonite clay has many cosmetic uses, including skin and haircare, and purification of the digestive system. It has been used in skin masks, creams and lotions; hair products; toothpaste and detoxification drinks.
Bentonite clay helps to draw out toxins and has been used for detoxification of the skin, mouth and other parts of the body for centuries.
One common use for bentonite clay is in an armpit detox. Armpit detoxification is important for anyone who has used conventional deodorants due to their high chemical content. The armpits also contain a high number of sebaceous glands – this is why they tend to be the sweatiest part of our bodies – and a bentonite clay detox can help clear any toxin buildup for this part of our bodies.
Bentonite clay's detoxifying powers help with other areas of skin as well. It helps to naturally exfoliate the skin and remove dead skin cell layers to reveal glowing skin. Nutrients in the clay also help to tone and nourish the skin, naturally reducing the size of pores and controlling oil production.
Due to its natural detoxification abilities, bentonite clay mask recipe for acne help to treat skin inflammation. Acne can be caused by clogged pores, irregular skin cell shedding, bacterial overgrowth and excessive oil production – bentonite clay can help with all of these causes!
This bentonite clay mask for acne will not work overnight, although you will likely notice an immediate reduction in redness and irritation. For best results, use this bentonite clay mask recipe for acne regularly. You may choose to do a detoxification protocol, in which you apply the mask for a few days in a row before applying once weekly as a part of your regular skincare routine. Over time, your pores will shrink, your skin's oil production will normalize and breakouts will clear up.
Where to buy bentonite clay?
When buying bentonite clay for cosmetic purposes, be sure that the product your purchase is 100% bentonite clay and is not mixed with any chemicals or preservatives. This will ensure that you have the most active bentonite clay variety and that you are not adding any unwanted chemicals to your skin.
I get my bentonite clay from amazon here.
Some bentonite clay labels may contain a 'prop 65' warning. Proposition 65 is a special warning system applied to products containing certain compounds per California law. Bentonite clay contains trace amounts of lead in a non-bioavailable form. Since it does contain lead, the prop 65 warning is required, but its still consider safe to use since naturally occurring lead in clays binds to other compounds, and does not interfere with human biology for this reason.
Calming clay mask recipe for acne
Ingredients:
Chamomile flower water (or also called hydrosol)
Chamomile flower water is derived from chamomile flowers and has calming benefits due to the types of naturally occurring esters and alcohols in the plant. Chamomile water is nourishing to the skin, anti-inflammatory and antiseptic.
Lavender essential oil
Lavender oil is derived from lavender flowers, known for their calming scent. Lavender oil has natural anti-bacterial and anti-fungal properties and is soothing to irritated skin.
Tea tree essential oil
Great antiseptic to treat acne.
Clay Mask Recipe For Acne
Instructions
Combine all ingredients together until it forms a thick paste
Apply as a spot treatment for 15 minutes or on all your face (avoiding the eye area) for 5 minutes Remove the clay with a warm wet cloth and massage your skin gently while doing so.
Rinse your face gently with warm water and then finish with cold water to close your pores.
Moisturize with rosehip oil.
Repeat once a week.
This clay mask recipe can help heal the skin and reduce inflammation and redness.
Please tell me how you like this clay mask recipe for acne in the comments below!